Blacksheep Tribes is a group present in Belgium and France which started its activities in 2008.
It is owned by two public utility foundations and is made up of 8 companies, each working in various fields: IT consultancy, consulting and management, research and development, art and culture, agriculture, construction, well-being at work, citizen entrepreneurship, etc. Today, the group is proud to have 160 employees.
The common point of all the entities is to demonstrate that another way of doing business is possible regardless of the field. Thanks to innovative management and governance models, the group puts people and direction back at the centre of its concerns.
The group's turnover amounted to 17 million euros in 2021. That said, at Blacksheep Tribes profit is only a means, certainly not an end in itself. What really drives us is the societal role of our actions, sustainability, ecological responsibility, the fulfilment and well-being of employees.
14 ANS
In the service of innovation
"WALK THE TALK"
"Aligner les paroles et les actes"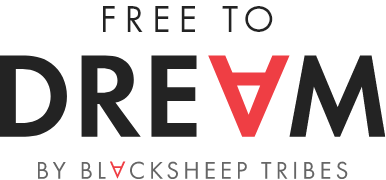 Fulfill your virtuous dreams
while working
If your dream is to act for a social, ecological or animal protection cause, make it come true by working with us, supporting and promoting the values of the group thanks to a budget of €1,000/year that can be accumulated over 5 years.
Tribes and poles of activity
The companies of the Blacksheep Tribes group, established in Belgium and France, each have very varied fields of activity and expertise.
Check them out below.
Two public utility foundations, Innotopia et Tealium are shareholders of the group's companies. They guarantee the application of innovative modes of governance and the social responsibility of each of the entities.
IN BELGIUM
Our IT companies are at the forefront of technologies and experts in carrying out projects with high risk potential.
In terms of managerial innovation and governance, our entities have in particular been involved, for more than 10 years, in practices resulting from agility and collective intelligence.
IT consultancy company organised on the basis of the principle of self-management.
Back office service company for companies in transition to collective intelligence.
IT consultancy company organised on the basis of collective intelligence and participatory management.
Public utility foundation, co-owner of the group whose vocation is to promote human entrepreneurship.
Public utility foundation, co-owner of the group and focused on applied research.
BLACKSHEEP TRIBES HOLDING
Financial holding company.
IN FRANCE
The French companies of the Blacksheep Tribes group are located in the South of France, more precisely in Aude in the Occitanie region. They undertake various activities: research, development and sales of low-tech innovations, public works and construction, sustainable and responsible agriculture, art and cultural engineering, promotion and communication.
The French companies of the group combine their strengths and particularities in the creation of two large-scale, autonomous and complementary projects:
An area of 85 hectares surrounded by nature dedicated to managerial transformation and sustainable agriculture. This domain will be able to welcome groups for seminars and training thanks to its rooms and meeting rooms, its restaurant, its wellness area, etc.
A cultural third-party place dedicated to sustainable innovations and real utopias, which will offer various spaces and activities: coworking space, fablab and meeting rooms, art centre and artist residencies, concept store, café-bistro…
Research & Development workshop specialising in low-tech, which also markets its own innovations.
SOLELHAR
Engineering and consulting agency in strategy, communication and reputation, specialising in the following domains: arts and culture; institutions, innovations and places with impact (ethical, sustainable, responsible); nature and ecology…
DOMAINE DU CHEF DE L'OURS
Company managing the group's real estate in France (buildings, land, etc.).
LA CAMPAGNE DE L'OURS
Operating company and research into sustainable agriculture.
Autonomous and complementary, the companies of the Blacksheep group, nicknamed "Tribes", are distinguished by the trust and respect they have for the people who compose them as well as for their customers and partners. The tribes rely on their talents to offer innovative solutions that meet the real needs of their customers.
Through the multiple activities of the tribes of the Blacksheep group, we demonstrate that other governance, entrepreneurial, economic and social models are possible and efficient. We are convinced that each individual is an asset for the community when given the ability to achieve through meaningful projects.
In order to put words into action, the Tribes and their 160 employees apply a "Blacksheep Way of Life" through five strong commitments that each member endeavours to respect in all circumstances, internally and in their relationship with customers and partners.
We invest because what we do makes sense.
We take nothing at face value, we challenge norms, we question ourselves, we think outside the box and try new approaches.
We are not limited to the theoretical model; we adapt to the circumstances.
Employees do not correspond to job profiles; they reflect their life course. They are not smooth and interchangeable; they are unique in their roughness.
We do not tell the other guy what he wants to hear, we speak the truth but with kindness.
Our turnover?
A means.
Certainly not an end in itself.
The group's activities began in 2008 with the creation of Oniryx was followed by the creation of the Fondation Tealium in 2015, the SCI of the domain of chef de l'ours in 2017 in France, then in 2019 i'groove and Boost Us in Belgium. Two other French companies, Novactory and the Campagne de l'Ours, were created in 2020.
In the coming year, the creation of two new structures is planned in France. To oversee everything, this is where the Holding comes in, with two public utility foundations now at the top of the group: Innotopia and Tealium.
Domaine du chef de l'ours