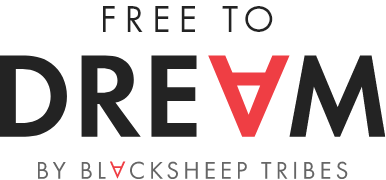 Fulfill your virtuous dreams
while working
Imagine a business that gives you the opportunity to realize one of your dreams.
The Blacksheep Tribes group – in its constant quest for innovation putting people back at the heart of concerns – has decided to launch the campaign Free to Dream. It allows the group's co-workers to realise one of their virtuous dreams.
By working at Blacksheep Tribes, you will be able to:
Go on a trek in the mountains by sponsoring your ascent to help an association.
Participate with colleagues in a sporting event for the benefit of a cause.
Donate your time to a cause or association.
Let your imagination run wild… Let's dream together!
Its principle is quite simple
Every year for 5 years, each participating colleague receives a sum of €1,000 as a communication budget in the campaign Free to Dream.
The budget can therefore reach the maximum amount of €5,000 after 5 years.
This budget can be used to achieve a dream, which must be in line with the values of the group: a positive and virtuous dream for people and/or the environment.
I decide to wait 5 years and I have €5,000
I use my balance of €2,000 after 2 years. Three years later, I have €3,000 available in my account Free to Dream.
Each year, I have €1,000.
They talk about "Free to dream"
Alors on change ?
Émission Tipik
La Dernière Heure
Namur Luxembourg
L'avenir
Namur – entre Sambre et Meuse
Luxembourg
Le Courrier de l'Escaut